Tadashi Shoji Fashion Show Spring/Summer 2017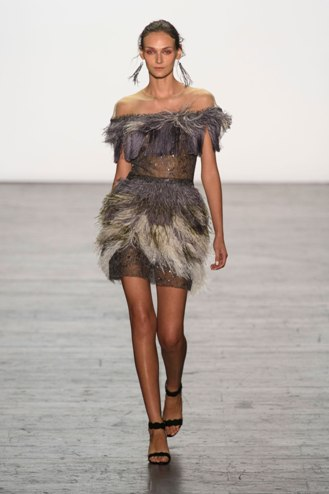 Happy Monday, loves! Fashion week has come and gone, but the awe-inspiring designs and pure art creations of these amazing designers are here to stay. I had the privilege of attending and experiencing the Tadashi Shoji SS17 runway show for the first time this season, and it was absolute magic. The pieces were nothing less than stunning, with intricate lace details, colorful embroideries and such delicate feather textures.
And let's not forget the one dress that took everyone's breath away. You could feel the air hold still as the model made her way down the runway in the most stunning feather fringe off-shoulder dress. It's moments like those that really fuel the fire and the magic of fashion week.
To be able to be a part of such beauty and art and let it inspire is what fashion week is all about. To get chills from seeing a new collection come down the runway and be in complete awe of such pure art creation. Until next season, fashionistas…
With Much Love,
Areta